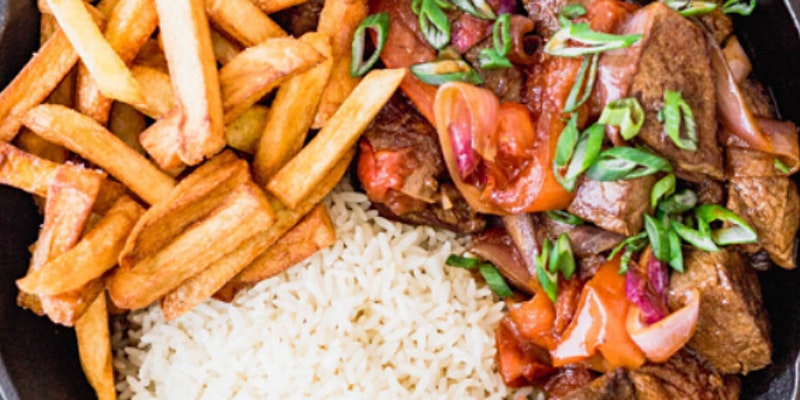 Online Pride of Peru: Lomo Saltado and Pisco Sour
By CocuSocial
Sat Apr 10th 2021
---
Peru
Peru
https://www.myguideperu.com/events/online-pride-of-peru-lomo-saltado-and-pisco-sour
BOOK NOW
Event Details
Best events in Peru

Online event

A fresh new addition to our ever growing global cuisine experiences, this class will sweep you off your feet and transport you to a fine restaurant in Lima where you will learn how to create an elegant meal of Lomo Saltado, a traditional Peruvian steak dish, accompanied with rice, french fries, and flavorful marinade all from scratch. We will kick off our class by making a delicious Peruvian cocktail drink Pisco Sour.

The evening starts by making a Peruvian Pisco Sour cocktail, perfect to get our evening started and set the mood for our delicious dinner ahead. While your rice is being cooked, it's time to begin preparing the main course, Lomo Saltado. This dish consists of marinated sliced beef (typically a strip of sirloin is used) stir-fried with onions and tomatoes. We will be serving this with crispy french fries and freshly steamed rice.

You will receive an email with the equipment and ingredients list. However, the main ingredients required to participate along with the chef in your own kitchen include beef (sirloin works best), potatoes, tomatoes, onions, garlic, rice, soy sauce, vinegar, aji Amarillo, salt, pepper, oil.

Prepare your mise-en-place ahead of the session, grab a glass of wine, and let's get cooking! The ticket is on a per-person basis. The class times are in Eastern Time!