Ventanillas de Otuzco (Otuzco Windows)
Through its architecture, Cajamarca summarizes the encounter between two cultures: the Inca and the Spanish
Ventanillas de Otuzco (Otuzco Windows) is Best For
Directions to Ventanillas de Otuzco (Otuzco Windows)
Ventanillas de Otuzco (Otuzco Windows)

Through its architecture, Cajamarca summarizes the encounter between two cultures: the Inca and the Spanish. Its archaeological past, however, tells of more ancient times, including the Caxamarca culture (which existed until 800 A.D.), through its aqueducts and enigmatic petroglyphs, and other even more remote civilizations.

Just 8 kilometers (5 miles) from the city, in the Inca Baths district, the Ventanas de Otuzco stand out in the midst of the natural setting. The site is the necropolis of a pre-Inca civilization, older than the Caxamarca culture, most probably with Wari influences.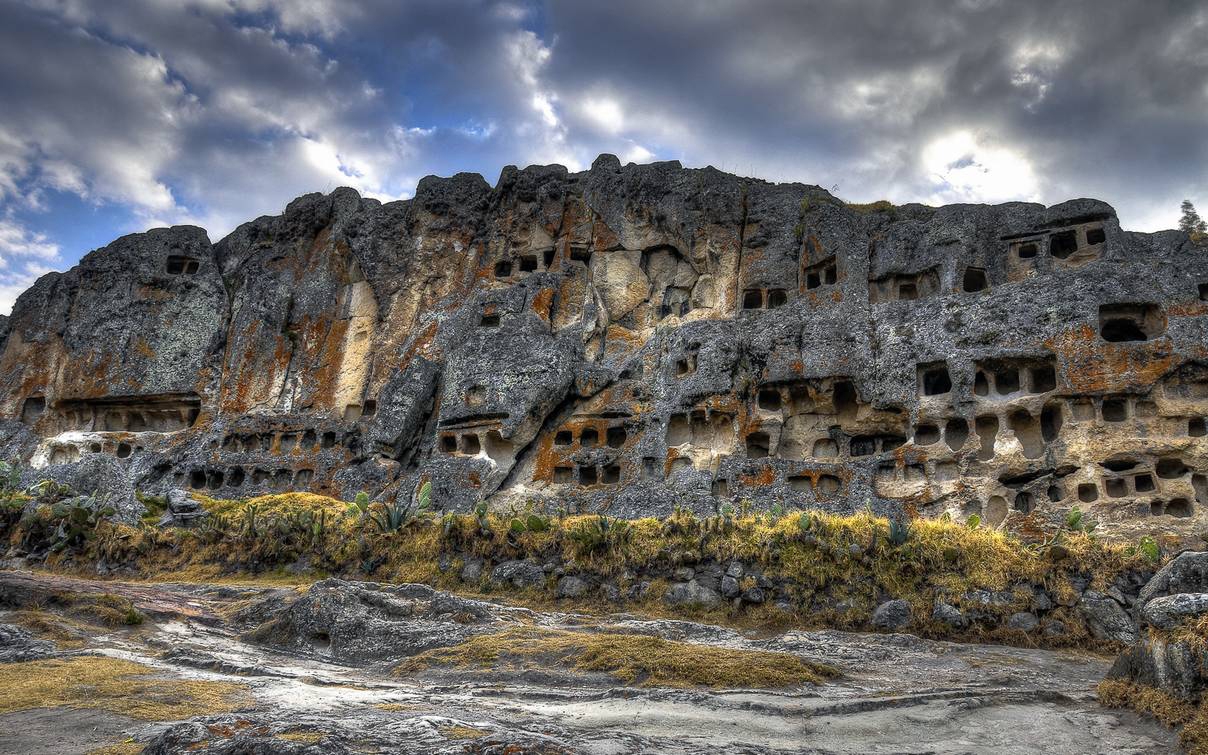 Ventanillas de Otuzco



Hundreds of galleries and individual niches, which resemble windows, were carved into the volcanic rock. The niches reach depths of up to 8 or 10 meters (26 to 33 feet) and have rectangular or quadrangular entrances which are 50-60 centimeters tall (20 to 24 inches).

According to tradition, the Incas emptied the inside of the rock and gave the niches a different purpose: they were converted into grain deposits (collca, in Quechua), which led to the entrances being re-directed against the wind to keep the contents fresh. Through some windows, one can enter the dark and mysterious galleries, whose inexorable end inspired man's imagination in the creation of the secret passages that link Cajamarca with Cusco.

General Information

Location: 8 km (5 miles) to the north of Chiclayo, Lambayeque Province, at 2,650 masl (8,694 fasl)
Climate: semi-dry, temperate and semi-cold
Average temperature: maximum temperature of 22 °C (72° F) and a minimum of 5 °C (41° F)
Season: Year-round
Access by Air: on a 1 hour and 20-minute flight. From there, visitors can take tourist buses or taxis to the Ventanillas de Otuzco.
Access by Land: Cajamarca can be reached by driving to km 695 on the Panamericana Norte highway, making a turning and driving 161 km (100 miles), or by plane