Casa de la Moneda de Lima - Museo Numismático del Perú
The Numismatic Museum of Peru, located in the former premises of the High Court of Accounts, shows the public the historical process of money in Peru
Casa de la Moneda de Lima - Museo Numismático del Perú is Best For
Directions to Casa de la Moneda de Lima - Museo Numismático del Perú
Casa de la Moneda de Lima - Museo Numismático del Perú

The Numismatic Museum of Peru, located in the former premises of the High Court of Accounts, shows the public the historical process of money in Peru, from the creation of the Mint in 1565 until today. This exhibition allows visitors to know the history of Peru through the symbols, facts, characters and ideals that have been engraved, printed and minted on our coins and bills. The museum is located in the premises of the former Main Court of Accounts (Jr. Junín 781, Cercado de Lima).

The currency in ancient Peru
The Royal Cédula of 1565 ordered to coin only silver coins, prohibiting gold and fleece. The first Peruvian coins were minted in 1568 and are similar to those minted in Mexico during the reign of Carlos I and his mother Queen Juana. These pieces are known by the name of "Rincones" because the essayist who put the initial of his last name on the coins was called Alonso de Rincón.
In pre-Hispanic Peru the use of currency was not known as was customary in the Old World. However, there are researchers who argue that certain groups knew a rudimentary form of currency: 'Currency - Merchandise', such as chili pepper, and even certain pieces of copper that archaeologists call 'Ax - Currency', which were used by merchants Maritime of the North Coast. Gold and silver did not have the same economic sense among the ancient Peruvians today, as they were metals destined for religious space or power.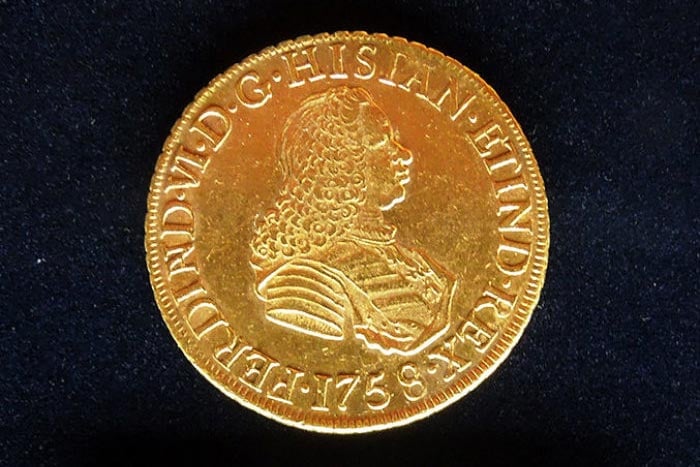 Old Peruvian Coin

Foundation of the Mint of Lima
Several orders and memorials were elevated to the Metropolis to create a Mint in Peru. In 1551 the Council of the Indies suggested to the Emperor the foundation of a mint in Lima. This was completed in 1565 (22 years after the city was founded), when King Felipe II dictated the Royal Certificate that created the Mint in the City of Kings.

Lima mint ceased its work in 1570 and part of its implements moved to the city of La Plata in response to mining expansion in the Andean South. In 1577 the Mint of Lima resumed its work and coins were minted until 1588, when it was closed again. At that time coins were minted with a new design arranged by King Philip II, known as the 'Coronado Shield'.