Taraco Heights and Tinajani Canyon Route
This journey up to 3,835 m.a.s.l. use the ancient rural paths of Huancane
Taraco Heights and Tinajani Canyon Route

This journey up to 3,835 m.a.s.l. use the ancient rural paths of Huancane and passes by the tombs of Sillustani and the shores of Lake Umallo before arriving at the fascinating Lake Titicaca, the highest navigable lake in the world (3,810 masl).

Location: Puno Department. Huancané province, Taraco district (3835msnm).
Weather: Semi-dry, cold and rainy.
Average temperature: 10 ° C
Season: From April to September.
Access by air: Lima - Juliaca, direct flights (1 hour 40 minutes); flights to Cusco (2 hours 40 minutes).
Access by land: From Lima, Arequipa, Cusco to Puno and Tacna; and Puno - Juliaca - Taraco, 75 km (1 hour 30 minutes).
Level: medium and high.
Time: 6 days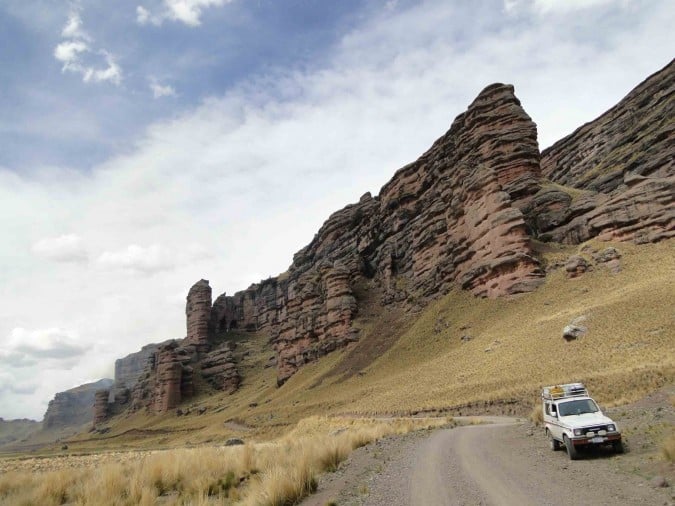 Tinajani Canyon




Tinajani Canyons
The broad and beautiful landscapes of Tinajani stretch over 250 hectares. The canyon is formed by a collection of anthropomorphic stone figures, with long ravines and small rivers throughout the area. The area also contains tombs from ancient cultures that used to live in the high plains. Ayaviri and Pucará offer tourism services.

Location: Puno Department. Pacobamba town, in Ayaviri (3,907 masl), Melgar Province
Weather: Semi-dry and cold
Average temperature: 10 ° C
Season: From April to September.
Access by land: Puno - Juliaca - Ayaviri 137 km (2 hours and 30 minutes).
Ayaviri - Tinajani 14 km
Level: Medium
Time: 2 days
Best For
Free

For Her

For Him

Backpackers

Students

Outdoor Area