BELMOND MIRAFLORES PARK
Hotels Bed and Breakfast Boutique hotels Luxury Hotels
BELMOND MIRAFLORES PARK

In the context of airlines, 'business class' is synonymous with 'I would love to fly, but let someone else pay the bill'. The Miraflores Park Hotel is another example of the kind of elegance and attention that seems to want to alleviate the restlessness of those who travel for business, but at the same time is a pleasure as an end in itself.

Miraflores is the name of an exclusive residential neighborhood of Lima, which is located near the cultural, commercial, and financial centers of the city. The Miraflores Park Hotel is, in fact, surrounded by a park, and its glazed facade reflects its stunning ocean views. Although it is presented as a hotel 'specially designed for those who travel for business', it is an elegant European-style boutique hotel, equally suitable for those who travel for pleasure and do not hesitate to take advantage of the fruits of the comforts of executives

Technology is present in every corner: two telephone lines per room, Internet connection in all rooms and availability of laptops at the customer's request; amenities that possibly make Miraflores the hotel with more meters of cabling in Lima. It also offers many possibilities to make presentations and organize meetings, with state-of-the-art audiovisual equipment and the business center, available seven days a week.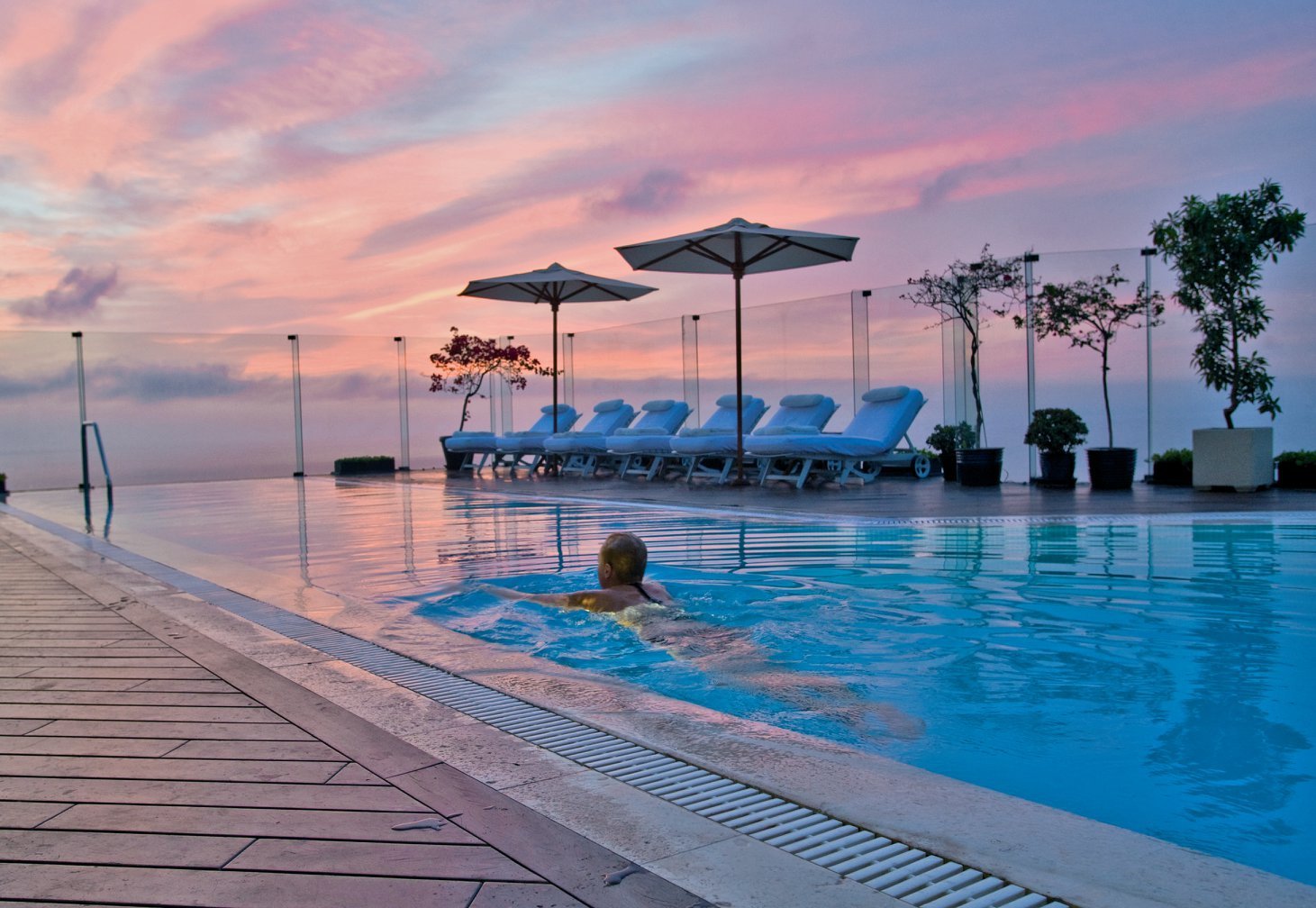 BELMOND MIRAFLORES PARK



But for the traveler on foot, all this matters little (the only thing that interests him is the possibility of sending e-mails with the subject 'I am in Peru!'). Surely you find the ocean views, premium bedding, marble and granite bathrooms, or a good dip in the fantastic rooftop pool more relevant. The hotel also has, of course, a spa center where you can receive massages, facials and venture to have your hair cut for $ 15. You can also play squash on the indoor courts, work out with the fitness equipment, make some holes in the Villa's country club and practice your reverse on the Las Terrazas tennis courts.

Surely you do not find a better place to toast for the sufferings of the modern businessman than the hotel bar, curiously with the English theme of Dr. Jekyll and Mr. Hyde, or his restaurant Ambrosía. But don't forget that you are not in a hotel complex: Lima is a bustling cosmopolitan city with eight million inhabitants, and the nightlife of the Miraflores neighborhood is not far behind. Here you will not lack the attractions of any big city. Even if you don't have business in Peru, there is no reason to prevent you from going out and exploring Lima.

Budget
Best For Whom
Business Travellers
Mature Travellers
Families With Teenagers
For Her
For Him
Couples
Groups
Best For What
Fine Dining
Cocktails
City
Luxury
Relaxation
Luxury Hotels