Automobile Museum Association Nicolini Peru Collection
There is a place in Lima that pays tribute to classic cars
Automobile Museum Association Nicolini Peru Collection

There is a place in Lima that pays tribute to classic cars. This is the invaluable collection of Jorge Nicolini gathered in an impressive automotive museum. RPP had the opportunity to visit this exhibition that is also open to the public every day of the week.

The story begins in April 1962. Jorge Nicolini was barely 18 years old when he saw a 1925 Lincoln model car pass through Argentina Avenue that was used as a collective taxi. This covered the route Plaza Unión-Carmen de la Legua. He was so captivated by the design of the vehicle that he was encouraged to buy it. It was his mother who gave him the money to acquire it. And so he began his adventure.

The first cars Then he acquired a Ford T with which he participated in a contest of the same Ford. It was the year 1965 and the automotive company had just opened its assembly plant in Peru. This event resulted in the contest that sought the oldest and best preserved car. Jorge introduced himself and won. As a prize he received a Ford Taunus, which he sold to compare 10 classic cars.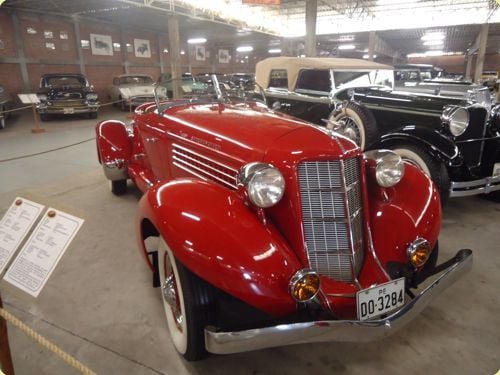 Vintage Car



Over time the collection continued to increase, until in 2002 it decided to bring it together in an environment that is open to the public. Thus was born the Automobile Museum, whose headquarters is located in the district of La Molina. There one can find more than 130 models of classic cars, from Rolls-Royce, Cadillac, Ferrarri, Jeep, among others.


The vehicles are repaired until they are practically new. | Source: RPP
Each vehicle has a story. For example, this collector has a presidential Cadillac that was used by the leaders Manuel Odría, Fernando Belaunde and Juan Velazco Alvarado. The oldest car we can find in the museum is a 1901 Boyer, while a Jeep truck used in World War II is ready to be displayed.

The anecdotes are also present. Some years ago he was contacted by the production of the movie Motorcycle Diaries that was interested in using some of his cars. Jorge answered the call and yielded four classic models that appeared in the film that tells the adventures of Che Guevara in South America. In 1995, Jorge lent one of his Rolls-Royce to the player Roberto Martínez to use in his fashion with the driver Gisela Valcárcel. Fact. Vehicles are not just museum pieces, all models are operational and work normally. Those who want to go to the Automobile Museum can do so from Monday to Sunday. The exact address is Av. La Molina, block 37. Urb. Sol de La Molina.

Best For
Free

Business Travellers

Mature Travellers

Families With Teenagers

For Her

For Him

Groups

Cultural Experience