Choquequirao Archaeological Park
Located 3,104.09 masl (Geographic Institute of Peru-2001) at the summit of a leafy green mountain on the border of the districts of Cuzco and Apurímac
Choquequirao Archaeological Park

Located 3,104.09 masl (Geographic Institute of Peru-2001) at the summit of a leafy green mountain on the border of the districts of Cuzco and Apurímac, the Choquequirao Archaeological Park is sure to impress with the majesty of its Inca architecture with terraces, plazas, chambers, imposing walls with niches, and other structures.

Construction of Choquequirao is awarded to the Inca Pachacútec's heirs, Tupac Yupanqui or Huayna Cápac, between the 15th and 16th centuries. The site appears to have been intended for public and ceremonial purposes, with the cult of the sun god, the earth, and water, among others. It may also have been a controlled entry point to the realm of Vilcabamba.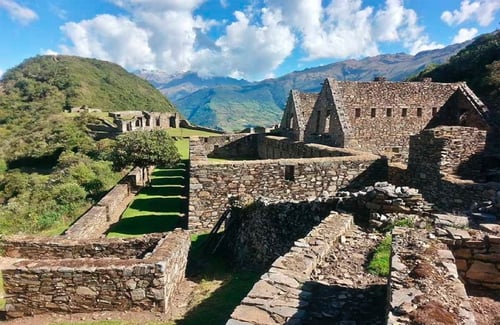 Choquequirao Archaeological Park



Thanks to its abundant flora and fauna, Choquequirao is considered a Regional Conservation Area by the National System of State-Protected Areas (NSSPA), encompassing 103,814.39 hectares (256,530 acres).

General Information

Location: Santa Teresa District, the Convention Province, Cusco.
Temperature: Average annual temperature is 16 ° C.
Season: Rains are heaviest from December to March, but light rains do also fall between June and July.
Access by Land: To reach the site, leave Cuzco towards Abancay until you reach the exit to Cachora (2,800 meters - 9,186 feet above sea level), in the Province of Apurimac. The trip takes about 4 hours. At this stage, some travelers choose to proceed on foot or to rent a mule, whose owners sometimes also act as guides. Later they must camp overnight before ascending to the archaeological site, which is notable for having most of its buildings on the slopes of hills and terraces with as many as 18 different levels. The entire round trip takes four days.
Contact Choquequirao Archaeological Park
Make Enquiry.
Directions
Budget
Best For Whom
For Her

For Him

Backpackers

Students
Best For What
Cultural Experience

Outdoor Area