Bungee Jumping
Extreme jumps
Bungee Jumping

Bungee jumping is one of the most extreme adventure sports due to its level of risk. Total adrenaline In Cuzco, barely minutes from the city center, in Poroy, on the road to Urubamba, a special 122-meter tower has been built, with gravity-defying travelers in mind.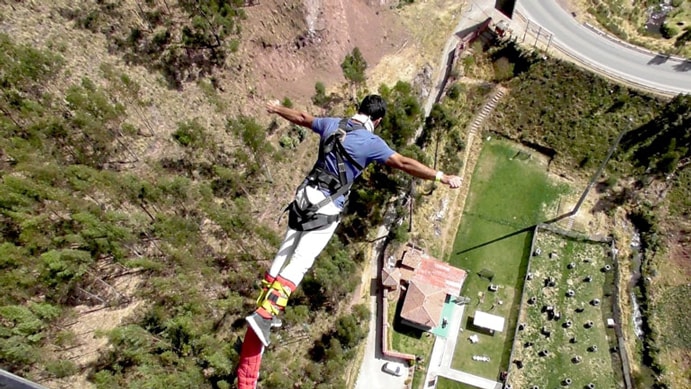 Would you dare?



Bungee jumping is the challenge of leaping into thin air. It entails jumping from a considerable height, with an elastic rope securely tied around the body. Participants can choose whether they want the rope tied to their ankles, waist or chest.

After a few seconds, the elastic rope fires the suspended body into the air, rising and falling various times, until stopping, after several minutes, just meters from the floor.

Directions
Street Santa Teresa 325 Regocijo Square, Sta Teresa 325, Cusco 08002, Cusco
View Larger Map
Best For
Moderately Priced

Families With Teenagers

For Her

For Him

Backpackers

Groups

Adrenaline

Adventure