Ancash: Monterrey, Chancos and Chavin
Spa
In Áncash, when traveling through the Cordillera Blanca (White Range)
Ancash: Monterrey, Chancos and Chavin

In Áncash, when traveling through the Cordillera Blanca (White Range), visitors have the chance to take a rejuvenating bath in the hot springs. Monterrey's hot springs are the closest to the city of Huaraz, with its water reaching 49 ° C (120 ° F).

The spas offer swimming pools and natural pools. Another option is Chancos, at the foot of the snow-capped Copa Mountain, with even warmer waters that reach temperatures of 74ºC. These establishments offer swimming pools, natural pools, pools with aromatic herbs, caves and massage treatments. The waters of both spa resorts are suitable for the treatment of rheumatism, nervous disorders and paralysis.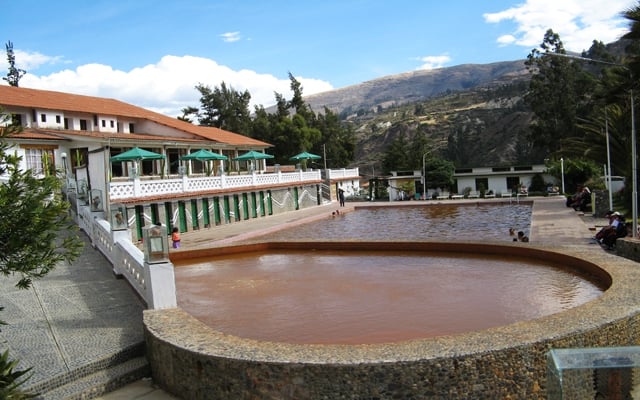 Thermal waters
Location: Monterrey (2,703 masl - 8,868 fasl), 7 km (4 miles) from Huaraz (3,052 masl - 10,013 fasl).
Chancos (2,800 masl - 9,186 fasl), 28 km (17 miles) from Huaraz.
Access by Land: There is a permanent public transport route from Huaraz both to Monterrey and Chancos.
Contact Ancash: Monterrey, Chancos and Chavin
Make Enquiry.
Directions
Budget
Best For Whom
Mature Travellers

Families With Teenagers

For Her

For Him

All Ages

Couples

Backpackers

Groups

Disabled

Leisure Travellers