Cajamarca: Banos del Inca
Spa
Hot springs with temperatures over 70 °C (158 °F)
Cajamarca: Banos del Inca

Hot springs with temperatures over 70 °C (158 °F). The water's minerals have therapeutic properties for treating bone, skin, and nervous conditions. Designed for the comfort and best enjoyment of visitors, pools have been built where hot water mixes with cold. There is also a sauna and swimming pool where visitors can enjoy a relaxing bath after sightseeing in the city.

Due to its historical importance, it is one of Peru's most famous medicinal hot springs. The Inca Emperor Atahualpa was found here when the Spanish conquerors arrived. The stone pool where he used to bathe can still be seen.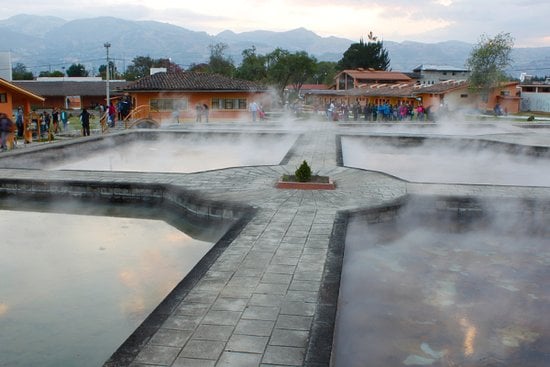 Centuries-old hot springs



Right from the moment you enter, the steam can be felt rising from the chloride and sulfurous waters of the bubbling springs. Although this area is particularly attractive due to its hot springs, it also has beautiful natural scenery, accommodation, and magnificent restaurants.

Relax in the hot springs while your body soaks up minerals that are incredibly good for your health. In these springs, underground water comes bubbling up at different temperatures (above 20 °C - 68 °F), and depending on its composition, it has several therapeutic qualities such as baths and inhalations, as well as being used for irrigation and heating.

Peruvian geology, and especially the Nazca Plate geological fault, have produced around 500 hot springs. Plate movements allow thermal flux filtration, which heats underground water. It then comes out of the ground at high temperatures, containing minerals that are good for your health.

Location: 6 km (4 miles) east of Cajamarca (2,750 masl - 9,022 fasl)
Access by Land: There is public transport available all day from Cajamarca to Baños del Inca
Budget
Best For Whom
Business Travellers

Mature Travellers

Families With Teenagers

For Her

For Him

Couples

Backpackers

Groups

Students

Leisure Travellers
Best For What
A View To Die For

Relaxation