Colca Lodge Spa & Hot Springs
Hotels Bed and Breakfast Spa Hotels
Your first view of Colca Lodge Spa & Hot Spring will probably be from the road across the valley as you approach the riverside hotel.
Colca Lodge Spa & Hot Springs

Your first view of Colca Lodge Spa & Hot Spring will probably be from the road across the valley as you approach the riverside hotel. From that vantage point, the manicured grounds of the hotel are a swirl of green punctuated by shots of color from blooming plants, including Peru's national flower that attracts the largest hummingbird in the world. The place seems like a mirage or a mistake. It is neither.

The Colca Lodge Spa & Hot Springs opened in 1995, long before Peru's Colca Canyon became the popular outdoor adventure destination that it is today. The hotel started small with planned growth over many years. This ultimately resulted in 45 rooms, a spa, a restaurant, a meeting space, and fantastic natural hot spring pools.

The hotel has a mind-boggling variety of rooms in an array of sizes and styles. There are 36 standards (which vary greatly), six larger adobe suites, three full suites, plus the Panorama Suite. This top choice is a spectacular duplex on the river with a wood-burning stove, an upstairs bedroom with corner windows and great views, and a private furnished patio with a private thermal pool. The hotel's original room has been expanded into a two-story mini house with a full kitchen, three bedrooms, a fireplace, an outdoor Jacuzzi, and a furnished outdoor patio and dining area.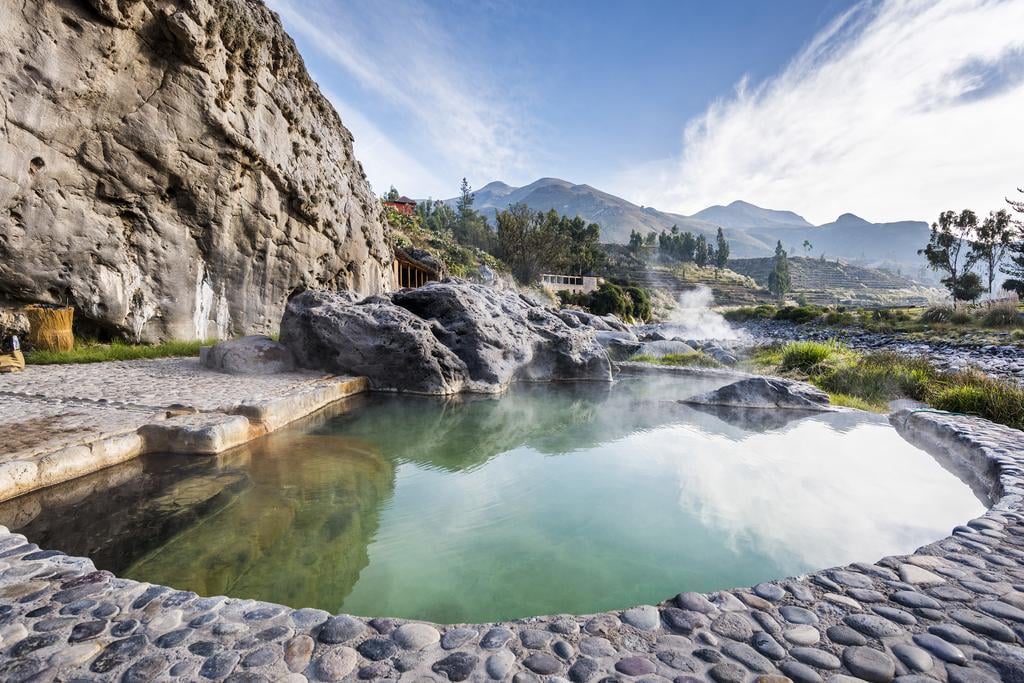 Colca Lodge Spa & Hot Springs



All buildings have traditional thatch roofs which are, thankfully, fully finished inside so there are no worries about critters or thatch falling into the rooms. Rooms have no TVs and Wi-Fi is restricted to the main building, which can be frustrating. You might get the Wi-Fi signal in room 19, otherwise, you'll have to spend time in the reception area (where there are two computers for guest use), the bar, or the lounge if you need to check in with colleagues or relatives.

Colca Lodge hotel spring pool Not surprisingly, the location for the hotel was chosen because of the natural hot springs on the property. Today there are three immaculately clean stone and concrete soaking tubs on the edge of the Colca River where naturally heated mineral-rich water from the springs is collected. There's very little Sulfur in this water, so there's no Sulfur smell.

The tubs are spacious and deep. There's also a bar and restaurant at the hot spring pools and each pool has nearby benches and racks where you can hang the cozy hooded robe that's provided to every guest and which you'll want to wrap up in post soak. There's also a cold plunge pool if you're into that. The pools are open 24 hours a day and you should be sure to go for a soak at night when the sky over the canyon is a festival of stars.

Across the Colca River is the hotel's Camelid Experience, a series of corrals and barns with a collection of alpacas, llamas, and their long-haired cousins ​​called suris. You can visit the small farm and tour the camelid interpretation room and the condor interpretation room (the Colca Canyon is home to a large population of condors). Be sure to let the staff at the reception desk know that you want to visit so they can ensure that the facilities are unlocked for you.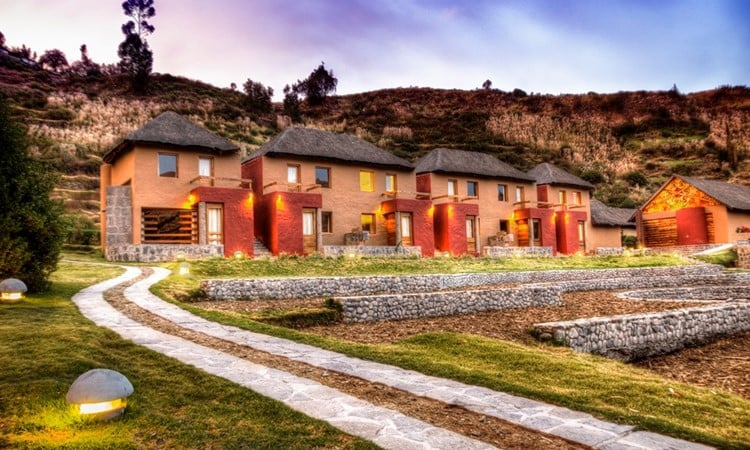 Colca Lodge Spa & Hot Springs



Also by the river is the hotel's Spa Eco Thermal offering a full menu of spa treatments at reasonable prices (45-minute massages are about the US $ 50, for example). Massage rooms have large windows with views over the river and facial rooms have skylights for natural light during treatments. There's also a relaxing lounge, a private hot springs pool, three private jetted tubs, and a sauna.

Colca Lodge is located a few miles from the small village of Yanque, where dining options are very limited, so you'll likely be eating your meals at the hotel. A breakfast buffet including all the usual suspects plus eggs to order is included in room rates and there are two dining rooms at the hotel.

Budget
Best For Whom
Business Travellers
Mature Travellers
Families With Teenagers
For Her
For Him
Couples
Groups
Best For What
Luxury
Nature
Relaxation
Spa
Luxury Hotels