Sol y Luna
Hotels Bed and Breakfast
At Sol y Luna, they host guests in cozy houses made of local stone, decorated individually.
Sol y Luna

At Sol y Luna, they host guests in cozy houses made of local stone, decorated individually. Each of these forty-three casitas is surrounded by gardens filled with flora native to the Sacred Valley and all face the Andes Mountains where the Incas believed their gods dwelled.

Within each private sanctuary, an outdoor terrace leads into the high-ceilinged living space with terra cotta tile floors, Peruvian textiles and some of our favorite Sacred Valley artifacts, Spanish colonial-style furniture, a plump king-size bed, or two double beds made with goose feather duvets and top quality Peruvian Pima cotton sheets, and a spacious marble bathroom with deep soak bathtub, just as you might have at home.

And then there is the art. I met Federico several years ago and felt immediately enchanted by his brightly painted, fantastical sculptures of Andean flowers and animals. For each casita, Federico created an original mural inspired by the Sacred Valley of the Incas and many feature his unique three-dimensional pieces too. I watch his artwork transform guests 'faces into lasting smiles and I love how these make people feel whenever they come upon his work around Sol y Luna.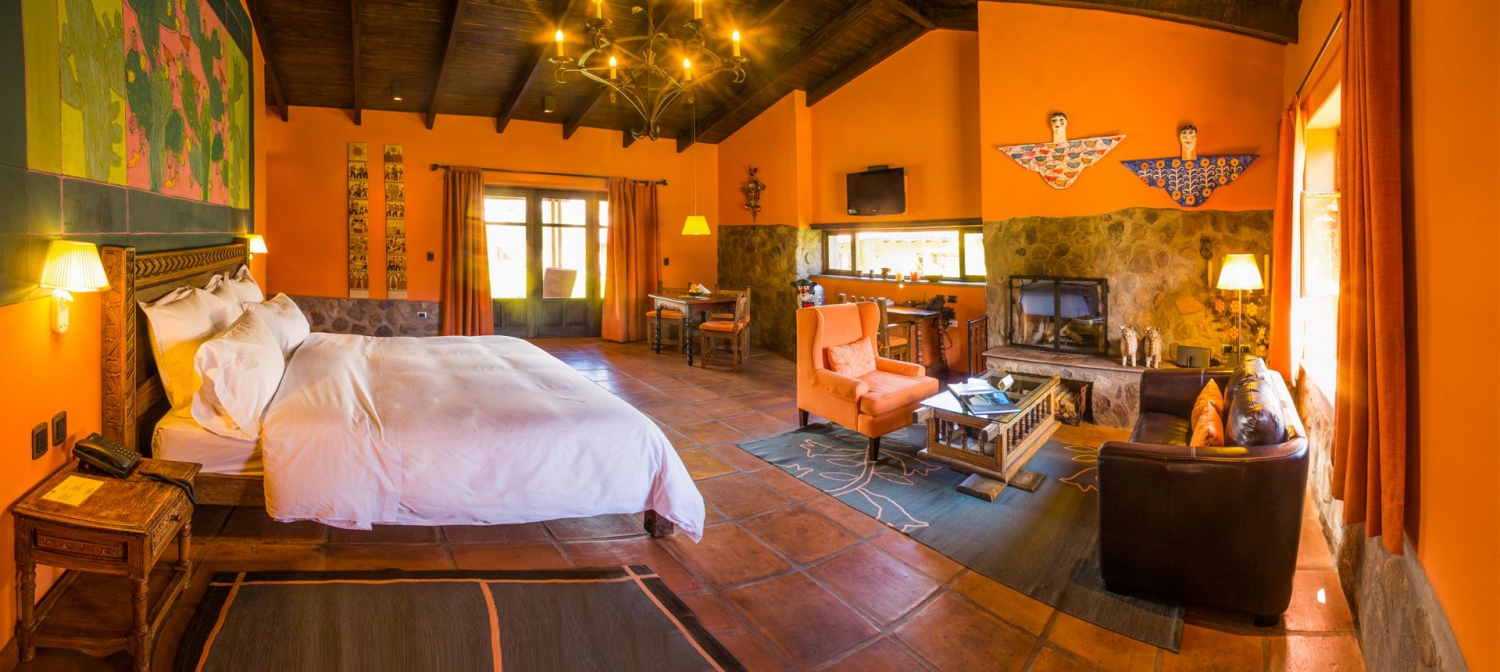 Sol y Luna



Spanish conquistadores burst into the Americas in the 16th century, and what are now Mexico and Peru were never the same again. But there were places they never got to - places they didn't know about. One of them was the Inca citadel of Machu Picchu. The Spanish never found it, so the magnificent mountaintop stronghold, and the lush valley around it, remained untouched during colonial rule.

Many great resorts and hotels have popped up in the Sacred Valley of the Incas in recent years, and the very best ones honor the natural landscape and native culture. Take Sol y Luna, a small hotel set on 25 oasis-like acres outside the village of Urubamba on the road between Cusco and Macchu Picchu. Not only are the flora and fauna indigenous - exotic flowers flourish in the rich red earth, endangered trees cast deep shade over garden walkways, giant hummingbirds flit overhead - but the architecture countries homage to ancient Inca constructions. The hotel consists of a series of low-lying bungalows built with clay walls, native stone, and locally made beams and bricks.

Inside, of course, the amenities are thoroughly contemporary - marble-tiled bathrooms stocked with L'Occitane products, Bose sound systems, LCD TVs, free wi-fi, and so on. But the furniture is handmade, and the framed paintings were made by local artists. And those cozy sheets you'll sink into after a long day of hiking? Those are Peruvian high-density Pima cotton. At Sol y Luna, the high-end room category isn't a suite, but a "casita" (little house) - they come with extras like outdoor Jacuzzis, wood-burning fireplaces, and underfloor heating.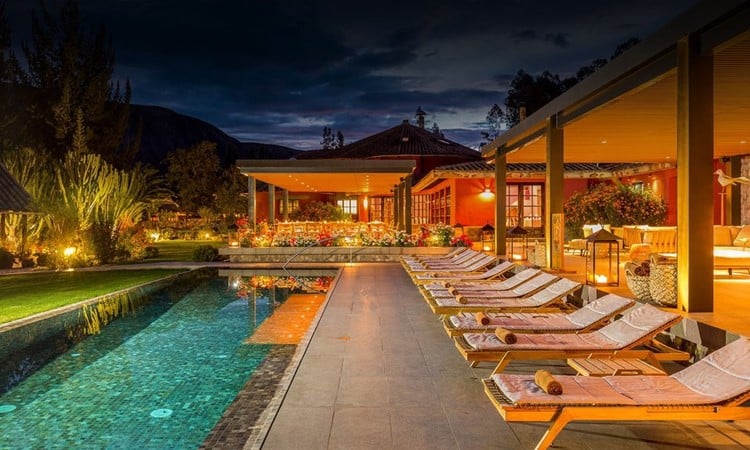 Sol y Luna



Partake of ancient grains and unusual fruits at the hotel's lavish breakfast buffet. The chefs at Killa Wasi restaurant, of course, source ingredients from their own gardens and local farmers and producers. Pisco sours, Peru's citrusy national cocktail, are shaken to perfection and served at Chicha Wasi, the bar, or delivered directly to your poolside chaise lounge. There's also a spa and fitness center, tennis courts, yoga classes, and onsite bike rental. The Sol y Luna staff happily arrange countless activities in the immediate surroundings, from hiking and horseback riding to rafting and kayaking on the Urubamba river to side trips to the traditional markets of Pisac and Ollantaytambo. Whether you're on your way to the area's main attraction or recuperating after an adventure, a stay in the Sacred Valley is as active or as restful as you want it to be. A holiday, after all, should be sacred.

Budget
Best For Whom
Mature Travellers
Families With Teenagers
Families With Children
For Her
For Him
All Ages
Couples
Groups
Best For What