Urubamba Villa
Hotels Bed and Breakfast Boutique hotels Luxury Hotels Spa Hotels Villas
The Sacred Valley area between Cusco and Machu Picchu is a spectacular first stop for those who need time to acclimatize to the altitude.
Urubamba Villa

The Sacred Valley area between Cusco and Machu Picchu is a spectacular first stop for those who need time to acclimatize to the altitude. There are also many things to see and do in the area that justify staying here for a few days or even a week. However, there have been very few hotels focused on meeting the demands of those tourists who wish to do more than just transit through the area, so this collection of luxury villas is a welcome addition to the stage.

Urubamba Villas was originally planned as a collection of condos for sale but ended up being developed as a group of units for short-term rental that includes most regular hotel services. You must check in and there is a daily maid service, including the replacement of clean towels and toiletries, but there are no public use facilities such as a central restaurant or a bar. Valley Valley villas Instead, Your wake up call is the sound of two chefs who enter your home to prepare breakfast: eggs as you wish, pancakes, fruit, homemade bread, coffee, freshly squeezed juices, and much more. Dinner is also prepared on site by a duo of chefs, with a bottle of wine included in the combo. (A mini bar, with typical mini bar prices, offers snacks and other drinks).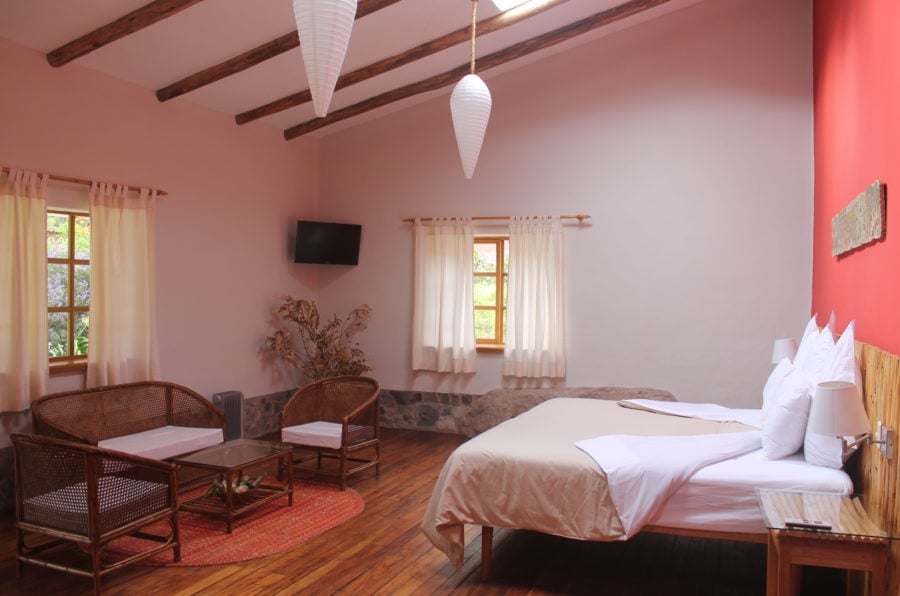 Urubamba Villa



The villas are scattered around a central area with a selection of fragrant flowers, stone paths, and beautifully maintained gardens. A garden with fresh vegetables and herbs provides ingredients and condiments for meals. The villas are some of the most attractive buildings in the region, showing native styles with red adobe, stone details, beamed ceilings of whole eucalyptus logs, and heavy wooden beams that support the lofts on the top floor . They give all the feeling and appearance that they could be maintained for centuries.

While the design of the hotel incorporates many local fabrics and crafts, there is nothing provincial in terms of amenities. There is a cozy wooden fireplace in each living room, with comfortable sofas joining with a dining table in the very complete kitchen. There are games available to entertain the family, books and magazines to read, and an area with outdoor seating to enjoy a drink while the sun goes down. Be aware that the experience here is not intended to simulate the benefits of staying at home: there are no televisions or Internet access. (Although there are several places to check emails nearby in Urubamba).

Sacred Valley luxury travel
The units are filled with impressive crafts and artifacts: sculptures, folk art, handmade lamps, framed fabrics, and ceramics. Each villa is like a miniature museum, which has one looking at interesting details in each direction.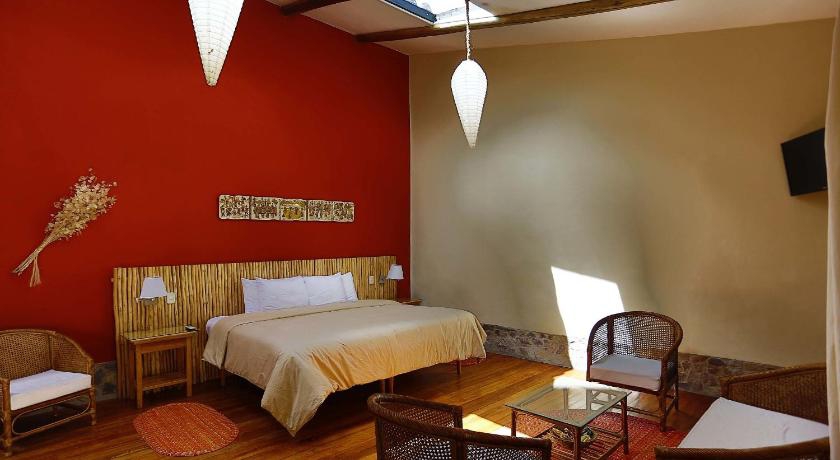 Urubamba Villa



The bathrooms are at the level of the best hotels in Peru. High-quality toiletries include glass bottles and handmade soaps wrapped in waxed craft paper. The showers have removable heads to be able to bathe the children and each unit has a deep bathtub in one of the bathrooms. All units have at least two full bathrooms. Finite cotton robes, sandals, hair dryers, and soft towels are considered standard, and in addition the large closets have different varieties of hangers.

Thick quilts and blankets cover luxurious beds of varying sizes, with twin, double or king size beds depending on the size of the room. Some of the loft have three beds for children in one area, while in others the loft is divided into two bedrooms.

Despite the independence with which each unit has been erected, the guest can choose from a selection of 10 spa treatments and take advantage of the variety of excursions offered. Andean Experience has some of the best guides in the country at your disposal and these can put together excursions such as challenging mountain hikes, tours to the local ruins of Pisac and Ollantaytambo, bike rides, and guided tours to Machu Picchu.

Considering the high quality of these villas and the opportunity to have meals cooked in the morning and at night, this is one of the best luxury offers in the country. It is a unique way for a family or small group to explore the Sacred Valley, returning to their own village house as a base home.
Budget
Best For Whom
Business Travellers
Mature Travellers
Families With Teenagers
For Her
For Him
Couples
Groups
Best For What
Luxury
Nature
Luxury Hotels