Observation of land mammals - South American Camelids
All along the Andean trails, alpacas (Lama pacos) and llamas (Lama glama) are usually seen following their shepherds gracefully and unruffled by the cold, rain and snowstorms
Observation of land mammals - South American Camelids

All along the Andean trails, alpacas (Lama pacos) and llamas (Lama Glama) are usually seen following their shepherds gracefully and unruffled by the cold, rain, and snowstorms. You can also see vicuñas (Vicugna vicugna) and guanacos (Lama guanicoe), species that roam wild through the highlands. the Andes at heights of over 4,000 meters (13,123 feet) above sea level.

Llamas are the biggest and are physically strong. They weigh between 108 - 155kg (239 - 341 pounds) and are between 1.5 to 2 meters (4.92 to 6.56 feet) tall. There are two varieties: the coarse-haired Ccara llama (short-haired, with little hair on its body and no hair on its face, neck, and legs) and the lanuda or chaku llama (with more hair on its body and fleece made of finer, longer hair).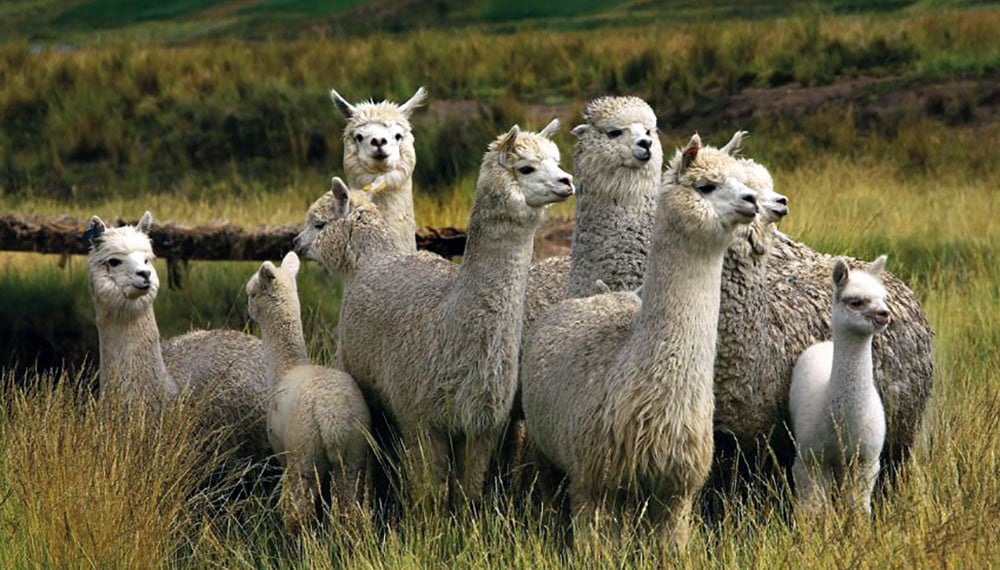 Llama



The alpaca, whose wool is generally used to make coats, is distinguished from other South American camelids by its smaller size, weighing around 60kg (132 pounds). There are two varieties: the Huargaya (with abundant hair covering its body, legs, and neck, and with short hair on its feet and face) and the Suri (whose hair is straighter, silkier, and longer, growing up to 20cm (8 inches) long).

Vicuñas have longer necks but are smaller, weighing up to 36kg (79 pounds) and with an average height of 1.5 meters (4.92 feet). Their wool is the finest in the world, with a thickness of 12.5 microns and high commercial value. Vicuñas are characterized by their brown cinnamon color on both the dorsal and lateral parts of their body, while the chest, belly, and inside legs are white. The mammal is representative of Peru's rich animal heritage and is depicted on the National Coat of Arms.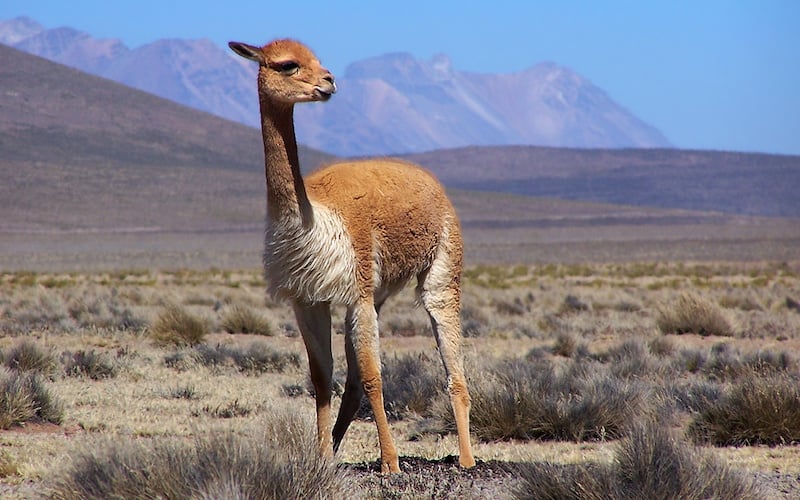 Vicuña



The guanaco is a wild South American camelid. It has an average height of between 1.2 - 1.5 meters (3.90 and 4.92 feet) and weighs between 120 and 150kg (265 and 330 pounds). Their hair color varies between reddish-brown and brown, while their chest, belly, inside legs, and feet are white. They easily adapt to diverse ecological conditions. The guanaco lives on the coast or at heights over 5,000 meters (16,400 feet) above sea level.

Andean dwellers used alpacas and llamas as a means of transport, food, and warm clothing. For millennia, man and camelids have been partners in a process of cultural adaptation. Cave paintings, such as those in Toquepala, depict hunting scenes in which the camelids appear. Furthermore, camelids have played an important part in ceremonies and rituals or as tomb companions in the final journey of Pre-Inca and Inca lords.


Contact Observation of land mammals - South American Camelids
Make Enquiry.
Directions
Observation of land mammals - South American Camelids, Ancash
View Larger Map
Budget
Best For Whom
For Her

For Him

Backpackers

Groups

Students
Best For What
Nature

Wildlife

Outdoor Area