Hotel Suasi Island
Hotels Bed and Breakfast
At more than 12,500 feet, Lake Titicaca is the highest navigable lake in the world
Hotel Suasi Island

At more than 12,500 feet, Lake Titicaca is the highest navigable lake in the world. It's also a massive body of water, covering more than 3,200 square miles in Peru and Bolivia, dotted with islands inhabited by local indigenous groups. Suasi Island is privately owned and it's home to the Isla Suasi Hotel.

The guided speedboat trip from Puno to the hotel takes about five and a half hours, but that includes two big stops. One is a visit to the famous man-made floating islands created by the Uros community. A stop at Taquile Island allows you to see the world-famous weaving technique of the Taquileños, whose work was added to UNESCO's Intangible Cultural Heritage of Humanity list in 2008.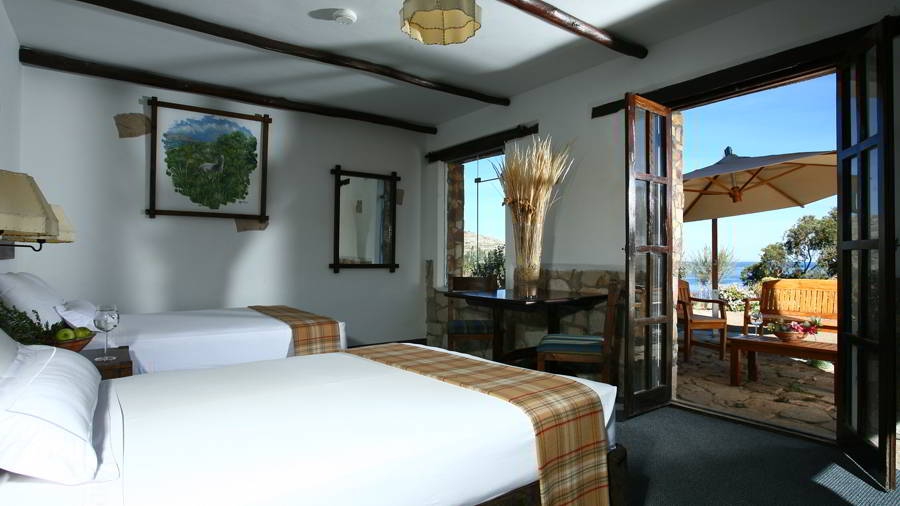 Hotel Suasi Island



A short walk up to the hotel from the Suasi Island dock helps work up an appetite for lunch which is an ample spread including quinoa soup; a mixed grill of trout, chicken, and beef; Vegetables, potatoes, and chocolate mousse.

Suasi Island dining view
The island's owner, and the powerhouse behind the hotel, is a Peruvian woman named Marta. She lives in the only other structure on the island and she built the original hotel using materials from the island, including stone and wood from eucalyptus trees. She opened with just one room more than 20 years ago and the hotel has grown steadily since then.

Isla Suasi Hotel is now housed in two adjacent buildings which have a lake house look and feel with stonework, exposed beams, and pitched roofs. About 80% of the hotel's staffers come from three small villages on the mainland shore of the lake and they commute to work in a zodiac.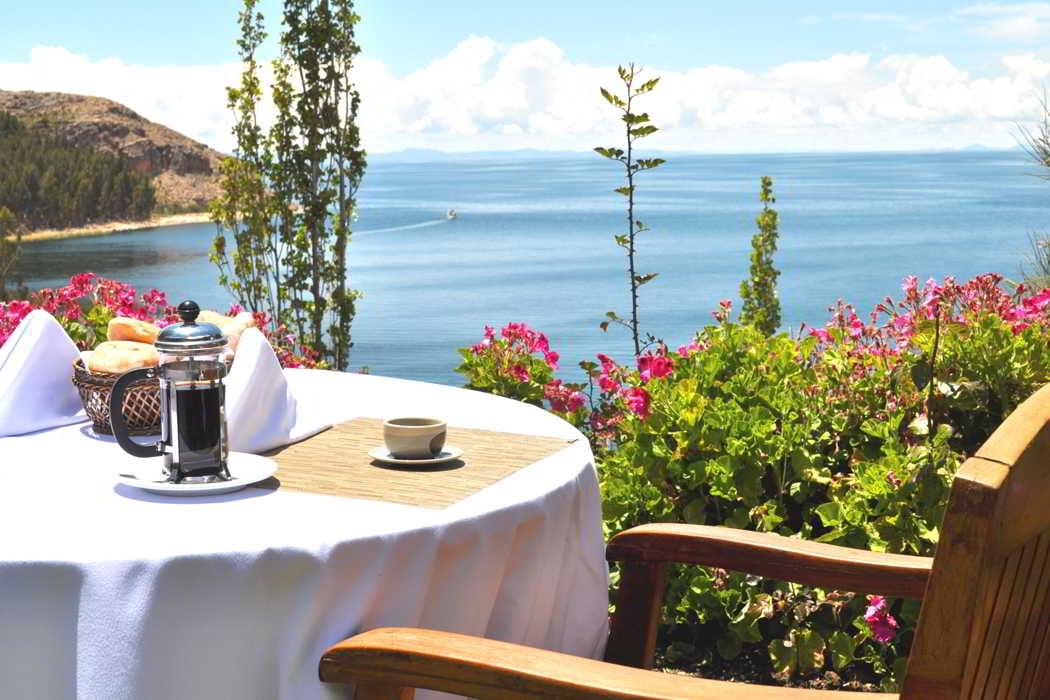 Hotel Suasi Island



The Casa Andina hotel group took over the property for a few years and expanded it before recently ending its contract. Rooms retain that small chain's somewhat cookie-cutter look and feel including motel-like bathrooms which are livened up a bit with satisfying Kara amenities including rich body cream (a big plus in the dry atmosphere) and delicious smelling chicha purple soap inspired by Peru's beloved beverage made with purple corn. It's worth making sure you've booked one of the rooms that include a cast-iron wood-burning stove both for comfort and for atmosphere. Hot water bottles at turn down are a nice (and often necessary) touch.

Suasi Island Hotel Room
The hotel operates on solar power with a backup generator and there's even a solar cooker in addition to the full hotel kitchen. There are no TVs in the rooms but there's a large TV in a lounge near the bar and Wi-Fi is available in the lobby only, along with a large charging station for your various devices and batteries.

While the bulk of the hotel and its facilities were built on a plateau above the lake, Suasi Island also has a private cottage situated right on the lakeshore offering a master bedroom and a second bedroom with two double beds, a large bathroom featuring a bathtub with a view, a small kitchen and dining area, and a furnished patio. Guests in the cottage must be prepared to walk up and down a stone staircase between the hotel and the cottage.

Budget
Best For Whom
Business Travellers

Mature Travellers

Families With Teenagers

For Her

For Him

Couples

Groups