The Westin Lima Hotel & Convention Center
Owned by Peru's Libertador chain and using many of the design team members from the lauded Tambo del Inka hotel in the Sacred Valley, this Westin competes head
The Westin Lima Hotel & Convention Center

Owned by Peru's Libertador chain and using many of the design team members from the lauded Tambo del Inka hotel in the Sacred Valley, this Westin competes for head–on with the best hotels in Lima and offers a great city from every room. There are no shortcuts in this development, which reportedly cost $ 130 million, so if you're looking for the newest and shiniest, this is the place.

Westin Lima Hotel Lounge The public space interiors, designed by Tony Chi, is dazzling, though the lobby seems a bit too intimate for a hotel with 301 rooms. The three individual check–in counters can get overwhelmed when more than a few guests show up at the same time and it doesn't take many people to fill up the chic lobby sitting areas. (Another sitting area with seats in a spiral is down the hall.) Fortunately, this becomes less of an issue as the day goes on since two striking lounges off the lobby pull travelers in and make them want to linger. In Situ is an updated version of a clubby tavern, with lots of wood and leather, but with more lighting. While the eyes can find something interesting to linger on in every space there, the lobby lounge is more minimalist, making a bold statement instead. With futuristic touches and a U – shaped bar running almost the whole length of it, it could be showing up in a future film or two.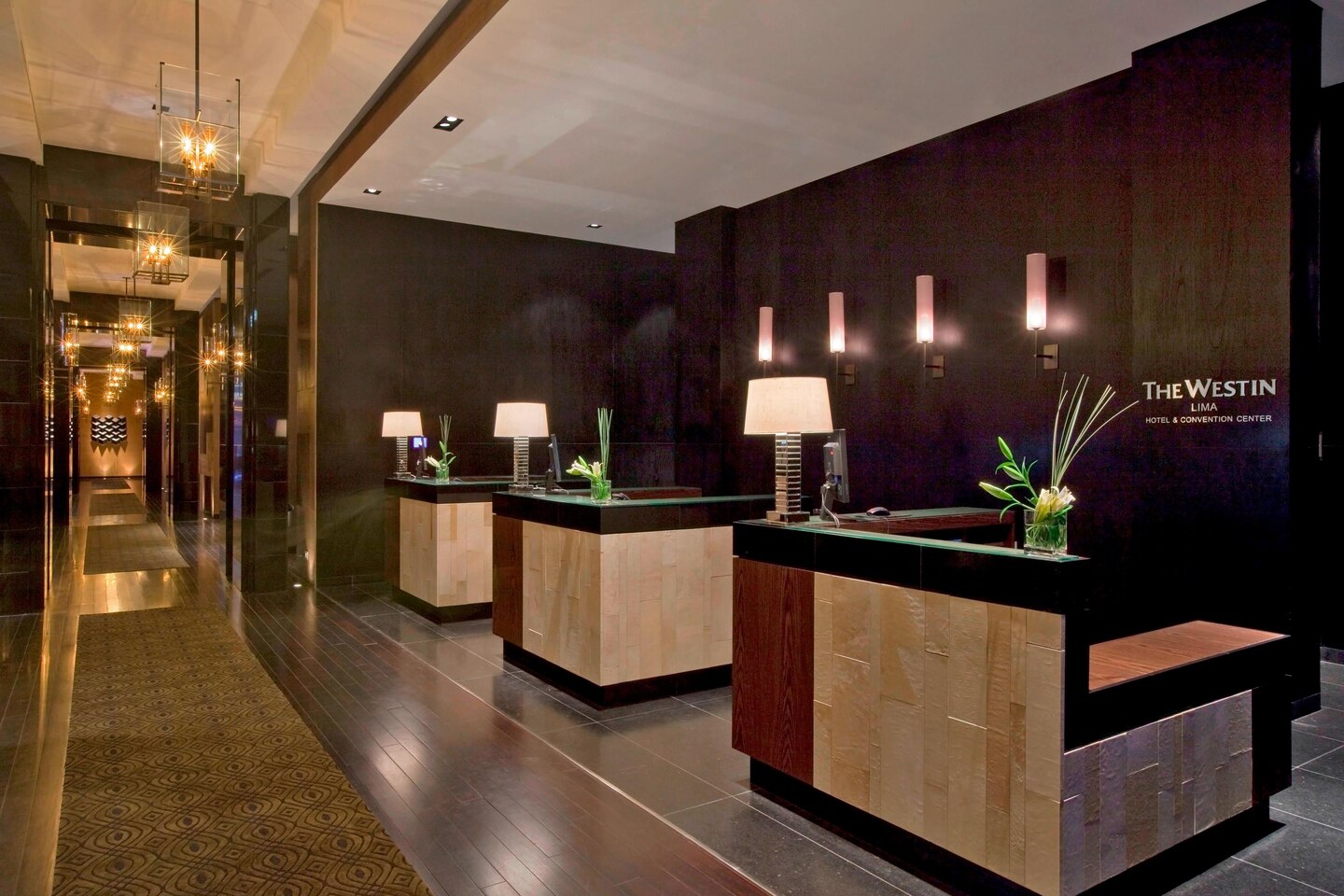 The Westin Lima Hotel & Convention Center



Westin Lima Hotel Maras Restaurant The Maras restaurant was just getting ready to open when I visited and the menu was going through some final tweaks, but in this city of foodies, it has already come out of the gate with a bang. Helmed by a well–known Peruvian chef who made his mark in multiple European countries first, it focuses on Peruvian ingredients but combines them in novel ways with items from France, Spain, and Italy. A wide selection of wine bottles are housed in the temperature-controlled floor–to–ceiling glass cases and local artwork adorns the walls. A more casual restaurant serves all three meals, with buffets at breakfast and dinner. Guests on the executive floors get morsels throughout the day in the 29th – floor lounge. Plenty of other restaurants are a short taxi ride away in this business district.

A heated indoor pool is long enough for laps, is flanked by lounge chairs, and has a wall of glass to let whatever natural light cloudy Lima is supplying that day. Spa facilities here outdo all others in the city, with more space and more offerings all around. All spa guests getting a treatment visit a hydrotherapy room first, then stretch out in a relaxation lounge with heated chairs before or after. The treatment rooms themselves are well-equipped and one room for two has its own sauna and Jacuzzi. The gym here is one of the best in town and is open 24 hours. There is a personal trainer on staff to assist you from early morning until night. A full beauty salon is on-site, offering pedicures, manicures, and hairstyling.

Contact The Westin Lima Hotel & Convention Center
Make Enquiry
Directions
Budget
Best For Whom
Business Travellers

Mature Travellers

Families With Teenagers

For Her

For Him

Couples

Groups
Best For What
Fine Dining

Luxury

Luxury Hotels