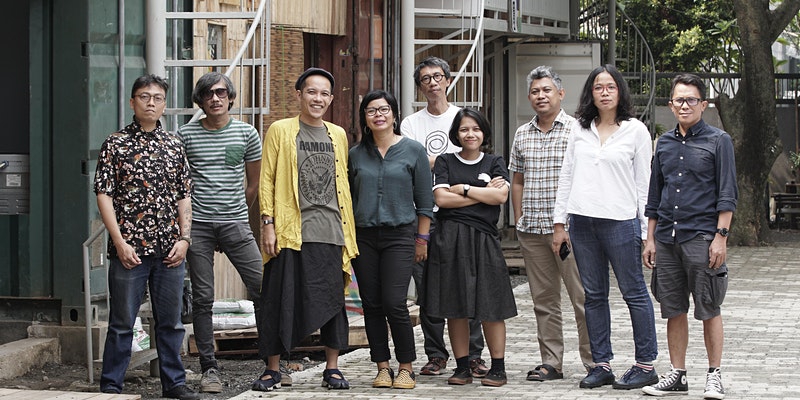 Conversations on Curating: ruangrupa
By The Glucksman
Thu May 27th 2021
---
Peru
Peru
https://www.myguideperu.com/events/conversations-on-curating-ruangrupa
VISIT WEBSITE
Event Details
Best events in Peru

Online event

ruangrupa is a Jakarta-based collective established in 2000. It is a non-profit organization that strives to support the idea of art within urban and cultural context by involving artists and other disciplines such as social sciences, politics, technology, media, etc, to give critical observation and views towards Indonesian urban contemporary issues. ruangrupa also produce collaborative works in the form of art projects such as exhibition, festival, art lab, workshop, research, as well as book, magazine and online journal publication. As an artists' collective, ruangrupa has been involved in many collaborative and exchange projects, including participating in big exhibitions such as Gwangju Biennale (2002 & 2018), Istanbul Biennial (2005), Asia Pacific Triennial of Contemporary Art (Brisbane, 2012), Singapore Biennale (2011), São Paulo Bi-ennial (2014), Aichi Triennale (Nagoya, 2016) and Cosmopolis at Centre Pompidou (Paris, 2017). In 2016, ruangrupa curated TRANSaction: Sonsbeek 2016 in Arnhem, NL. They will curate Documenta 15 in Kassel, Germany in 2022. From 2015-18, ruangrupa co-developed a cultural platform Gudang Sarinah Ekosistem together with several artists' collectives in Jakarta, located at Gudang Sarinah warehouse, Pancoran, South Jakarta. It is a cross-disciplinary space that aims to maintain, cultivate and establish an integrated support system for crea- tive talents, diverse communities, and various institutions. It also aspires to be able to make connections and collaborate, to share knowledge and ideas, as well as to encourage critical thinking, creativity, and innovations.

This series of free online events maps the radical potential of curatorial practice to enable connections between people and disciplines, individuals, and their wider communities of interest and place. Conversations on Curating explores how curating is continuously redefined and repositioned in ways that go far beyond exhibition-making. It draws on the local and global networks of curatorial scholars and practitioners in Cork, Ireland, and is a collaborative initiative at University College Cork led by Carlos Garrido Castellano and the curatorial team of the Glucksman. Conversations on Curating is presented online extending the museum's focus on the contemporary intersections between visual culture, critical thought and curating, and the discursive relationships between academic research and art practice.

Conversations on Curating is funded by University College Cork and the Arts Council of Ireland.