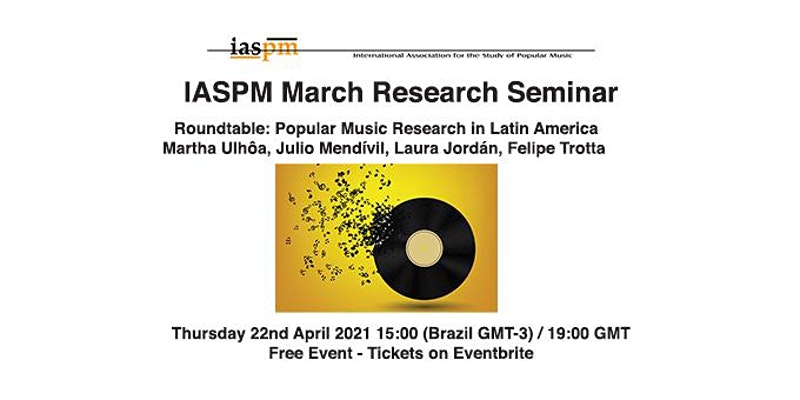 IASPM Research Seminar April 2021 Popular Music Research in Latin America
By International Association for the Study of Popular Music
Thu Apr 22nd 2021
---
Peru
Peru
https://www.myguideperu.com/events/iaspm-research-seminar-april-2021-popular-music-research-in-latin-america
VISIT WEBSITE
Event Details
Best events in Peru

Online event

From the ending of the last century until nowadays, popular music studies in Latin America became widespread across the subcontinent. This roundtable aims to discuss not only a brief historical background of these studies but also the predominant topics and approaches that characterize them. The political framing of the continent and the permanent debate about global and local inequalities related to music practice is the starting point for most studies. Broadly speaking, most debates contribute to interpreting the role of music within and beyond the complexities of our societies.

With a predominantly interdisciplinary approach, mostly headed by musicology, literature, social sciences, and communication departments, the range of these studies has increased year by year. The Latin America branch of IASPM functions as a hub of researchers from different countries, trying to overcome the language difficulties to disseminate Latin America contributions to the popular music studies field across the globe. The roundtable, hence, maybe a good opportunity to get in touch with some of these challenging debates.

Speakers:
Martha Ulhôa (Brazil) - musicologist and former founder/vice-chair of IASPM-AL and chair of IASPM. Project inconclusion investigates musical entertainment practices (especially the waltz), in mid -19th century Imperial Rio de Janeiro.
Julio Mendívil (Peru) - ethnomusicologist, writer, charango player, and former chair of IASPM-AL and IASPM. His research focus is the music from the Andes. He is currently researching music and sexual violence in Andean popular music.
Laura Jordán (Chile) - musicologist, professor at the Pontificia Universidad Católica de Valparaiso, and president of the Chilean Society of Musicology. Her current research focuses on vocality in independent popular music in Chile.
Felipe Trotta (Brazil, moderator) - musicologist and current chair of IASPM-AL, he studies (popular) music and sound in interhuman and social communication within cities. He is the author of the book 'Annoying Music in Everyday Life' (Bloomsbury), released in 2020.