Cosme
InternationalLatin AmericanMediterranean
COSME restaurant opened its doors in January 2015 in Lima-Perú.
Cosme

COSME restaurant opened its doors in January 2015 in Lima-Perú. Its casual but elaborated menu, home made sodas together with the colourful restaurant design has made COSMEone of the favorites in the city.

The restaurant´s name COSME evokes one of the first favelas in Lima, at Cerro San Cosme; where people still gather around with their friends and family to enjoy of a great nice homemade meal.
And that was exactly what Alvaro, Juan, Guillermo and James (4 endearing friends who were passionate for cooking) ambitioned for their restaurant. A place where their friends and friends of friends would get together to enjoy a "hearty meal with a taste of home" (better known as comfort food). So they got together back in 2013 and started to create what would be their long term dream of a cozy, trendy neighbourhood restaurant: COSME.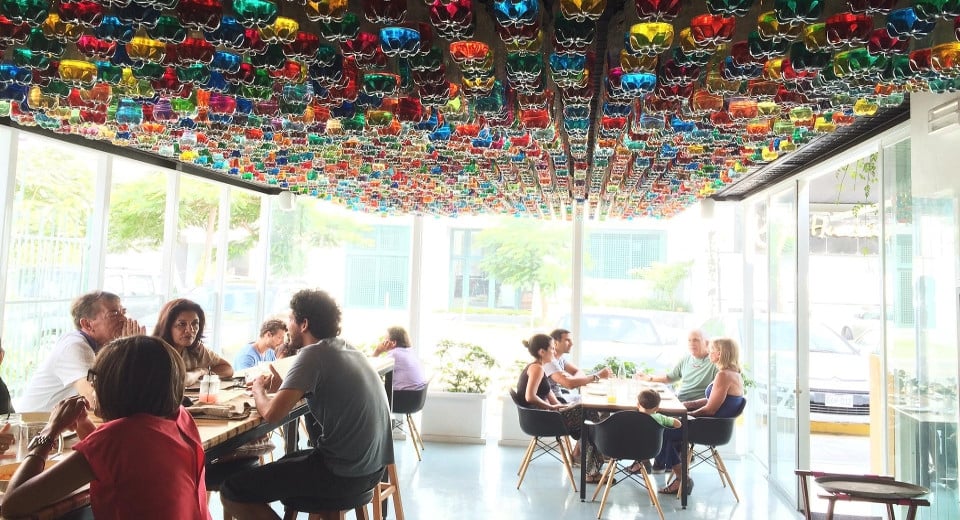 Enjoy a different day



It´s logo is inspired in the big black bird native from Lima, the buzzard or localy known as the gallinazo or volture. This bird although considered ugly is an ecofriendly animal vital for the enviroment. This native bird from Lima also simbolizes the sustainability in which COSME restaurant is also after. The usage of seasonal products, no plastic straws or soda bottles, together with their original arquitectonical design in which more than 4000 plastic coloured bottles are hanging off the roof reinforce their resposibility for the enviroment.
Directions
Tudela y Varela 162, San Isidro 15073, Perú, Lima
View Larger Map
Best For Whom
Business Travellers

Mature Travellers

Families With Teenagers

For Her

For Him

Couples

Groups
Best For What
Fine Dining

Cocktails

Quick Bites